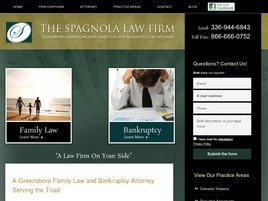 441 Battleground Ave Ste B

Greensboro

,

NC

27401
Area Practice
Family Law
Divorce
Separation Agreements
Child Custody
Child Support
Alimony
Adoption
Bankruptcy
Bankruptcy Chapter 7
Bankruptcy Chapter 13
Additional Info
Board Certified Specialist in Family Law, Divorce, Separation, Custody, Adoptions, Bankruptcy Chapter 7 and 13. Greensboro and High Point. 336-373-8469.

The Spagnola Law Firm's dual focus is on family law and debt relief through bankruptcy. We are here to serve you if you are in need of astute legal counsel regarding a divorce, other family law issues, or excessive debt. Call or e-mail us to schedule a consultation with no further obligation.
Many people greatly fear words such as "divorce" and "bankruptcy." I believe that summoning the courage to move forward through a difficult situation can make a person stronger in the end. The process is challenging, no doubt about it.
I am here to offer clear direction as you progress through the necessary phases of your family law or bankruptcy matter. Inventorying assets, filing well-executed documents with the court and preparing smartly for a new phase of life can be tiring and confusing - but the end of the tunnel beckons. My counsel and advocacy are available to light the way, with your best interests in mind.
Many of my clients arrive at my office in despair and confusion, wondering how to move forward in the face of marital breakdown, a child custody dispute or excessive debt. My greatest satisfaction as an attorney comes when I observe a client's relief and newfound sense of direction and confidence at the conclusion of a family law or debt relief case.
I am Board Certified as a Specialist in family law by the North Carolina Board of Legal Specialization. My family law practice assists clients with divorce, child custody, child support, property division and alimony. I can represent either side in a domestic violence matter.
Very often, these issues involve perplexing and troublesome circumstances in people's lives. A marital dissolution is a sad and disruptive process for most people. A child custody dispute can create stress for children and parents as change infuses uncertainty in family relationships. It is best for all family members to resolve these difficult matters expediently, in the best interests of children and individuals facing the breakup of a marriage.
I also advise and assist clients in happier family law matters, such as adoption. Many engaged couples appreciate my counsel with regard to prenuptial agreements.
My bankruptcy law practice provides answers and assistance to people who have struggled too long with burdensome debt that they cannot repay. It may sound too good to be true that a bankruptcy discharge can simply wipe your debts away, but many clients of The Spagnola Law Firm have experienced true debt relief through Chapter 7 or Chapter 13 bankruptcy.
Although my firm is located in Greensboro, I serve many clients in High Point, Burlington, Reidsville, Asheboro and other places in surrounding counties.
I welcome the opportunity to advise you on ways to move forward efficiently. I can answer your questions about divorce or legal separation and recommend courses of action focusing on your long-term best interests in a North Carolina divorce. Allow me to explain in person how I can help you plan for and proceed through your marital dissolution with confidence that you are watching out for your children and your own financial future. Call The Spagnola Law Firm today or e-mail to schedule a consultation with a Greensboro divorce attorney or bankruptcy lawyer.
Lawyers