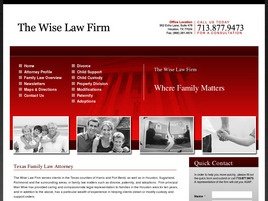 952 Echo Ln Ste 478

Houston

,

TX

77024
Area Practice
Family Law
Mediation and Civil Litigation
Child Support and Child Custody: Child Support Collection
Modification of Child Support
Child Support Increase
Child Support Decrease
Interstate Support
Collection of Medical Child Support and Unreimbursed Health Insurance and Medical Bills
Termination of Child Support
Enforcement of Child Support Orders
Child Custody
Child Custody Mediation
Enforcement of Child Custody
Paternity Suits
Agreed Modification of Child Custody
Contested Modification of Child Custody
Parental Rights
Father's Rights
Grandparent's Rights
Enforcement of Visitation Orders
Modification of Visitation Orders
Divorce: Pre-Divorce Planning
Uncontested Divorce
No Fault Divorce
Divorce with Children
Divorce with Property
Divorce with Property and Children
Divorce Mediation
Marital Property
Marital Property Law
Marital Property Distribution
Marital Property Settlements
Community Property and Separate Property Rights
Protection of Assets
Marital Property Division
Spousal Maintenance and Alimony
Termination of Alimony or Spousal Maintenance
Marital Agreements
Marital Property Agreements
Prenuptual Agreements
Restraining Orders
Divorce Temporary Orders
Temporary Orders with Child Support
Spousal Maintenance and Exclusive Use of Property
Enforcement of Property Agreements
Enforcement of Divorce Decree
Collection of Divorce Judgment
Motion for New Trial
Bill of Review proceedings
Appeal of Divorce Decree
Civil Litigation: Breach of Contract
Real Estate Law and Real Estate Contracts
Civil Litigation
Civil Law
Additional Info
Houston Family Attorney and Child Support Resource (713) 877-9473

The Wise Law Firm was founded by Mari L. Wise in 2001. At The Wise Law Firm, it is our goal to provide each client with personal attention and quality legal representation. Since 2001, The Wise Law Firm has represented a broad spectrum of clients with a variety of legal issues from simple divorces to highly contested child custody cases and cases involving substantial estates with complicated property issues, from ordinary evictions to complex contract and real estate issues, Appeals and Bill of Review proceedings. Although our primary focus is family law, The Wise Law Firm also handles civil litigation cases involving contract disputes and real estate matters.
At The Wise Law Firm, we strive to keep you ahead of the game so that you are not caught off guard. Regardless of the type of case, our motto is prior proper planning. When it comes to marriage - there is one certain truth - one way or another your marriage will absolutely end. Whether your marriage ends by death or divorce is up to you. We believe it is always better to be prepared for the inevitable through prior proper planning whether through estate planning and drafting of wills, medical directives, powers of attorney and related documents, or prenuptual agreements, marital agreements, and, if need be, through pre-divorce consultation to evaluate and develop a comprehensive plan to protect and prepare you for divorce. If your marriage ends in divorce, we will help you through the divorce process in an efficient, cost effective manner and counsel you to help you weather the storm with as much of your dignity and self-esteem in tact as possible and then help you move on through post-divorce planning.
Lawyers