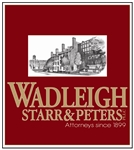 Wadleigh, Starr & Peters, P.l.l.c.
95 Market St

Manchester

,

NH

03101
Area Practice
General Practice
Alternative Dispute Resolution
Antitrust And Trade Regulation
Appellate Practice
Bankruptcy
Banks And Banking
Business Law
Civil Practice
Civil Rights Defense
Commercial Law
Commercial Real Estate
Constitutional Law
Construction Law
Contracts
Corporate Law
Debtor And Creditor
Education Law
Employee Benefits
Environmental Law
Family Law
Guardianship And Conservatorship
Health Care
Hospital Law
Insurance
Insurance Defense
Labor And Employment
Leases And Leasing
Lender Liability
Litigation
Mediation
Medical Malpractice
Military Law
Mortgages
Municipal Law
Negligence
Nonprofit And Charitable Organizations
Partnership Law
Personal Injury
Probate
Products Liability
Professional Liability
Public Finance
Real Estate
Regulatory Law
Taxation
Torts
Trusts And Estates
Wills
Workers Compensation
Zoning Law
Planning Law
Land Use
Professional Malpractice
Additional Info
Serving clients since 1899.

Founded in 1899, Wadleigh, Starr & Peters, P.L.L.C. provides highly responsive legal services to local and national clients. Working closely with clients from a wide cross section of the private and public sectors, Wadleigh's approach is to help clients achieve their objectives with practical, results-oriented representation. The firm prides itself in combining quality, large firm representation with common sense strategies, always putting the needs of the client first.
Wadleigh has a tradition of public service dating back to one of the founders, George Bingham, who served as both Justice of the New Hampshire Supreme Court and a Judge of the United States Circuit Court of Appeals between 1913 and 1934. Other members of the firm have served with distinction as Judges in the New Hampshire court system, Attorneys General of the state of New Hampshire and members of the United States Congress.
The firm's practice encompasses a full range of legal services, including corporate and transactional, litigation, real estate, labor and employment, education, municipal, professional malpractice defense, insurance, administrative, family, estate planning and probate law. The firm is a member of the American Law Firm Association (ALFA), an international organization whose member firms are chosen by peer evaluation and provide a broad spectrum of services to the business community.
Lawyers