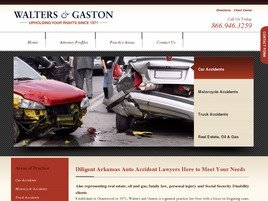 Walters, Gaston, Allison & Parker
1405 W Center St Ste 300

Greenwood

,

AR

72936
Area Practice
Banks and Banking
Bank Collections
Bank Foreclosures
Commercial Banking
Buy-Sell Agreements
Buying and Selling of Businesses
Children
Adoption Law
Child Abuse and Neglect
Child Custody
Child Sexual Abuse
Child Support
Childrens Rights
Fathers Rights
Foster Care
Grandparents Custody
Grandparents Visitation Rights
Independent Adoptions
Interstate Adoptions
Juvenile Criminal Law
Juvenile Delinquency
Juvenile Dependency
Juvenile Law
Parental Kidnapping
Parental Rights
Parenting Time
Private Adoptions
Step Parent Adoptions
Termination of Parental Rights
Third Party Custody
Visitation Rights
Federal Civil Practice
Civil Rights
Civil Liberties
Civil Rights Defense
Civil Rights Section 1983
Discrimination
Race Discrimination
Sex Discrimination
Womens Rights
Collections
Commercial Collections
Commercial Real Estate
Construction Law
Contracts
Breach of Contract
Commercial Contracts
Contract Fraud
Contract Litigation
Closely Held Corporations
Corporate Formation
Corporate Organization
Incorporation
Nonprofit Corporations
Professional Corporations
S Corporations
Criminal Law
Assault and Battery
Burglary
Capital Offenses
Civil Forfeiture
Criminal Appeals
Criminal Defense
Criminal Forfeiture
Drivers License Suspension
Driving While Intoxicated
DUI/DWI
Expungements
Extortion
Federal Criminal Law
Felonies
Forgery
Hit and Run
Homicide
Manslaughter
Misdemeanors
Murder
Parole and Probation
Sex Crimes
Sexual Assault
Shoplifting
Stalking
Theft
Traffic Violations
Vehicular Homicide
Weapons Charges
Debtor and Creditor
Creditors Rights
Secured Creditors Rights
Disabilities
Americans with Disabilities Act
Disability Discrimination
Civil Drug Forfeiture
Controlled Substances Law
Drug Crimes
Drug Forfeiture
Drug Trafficking
Condemnation
Inverse Condemnation
Land Annexation
Property Rights
Family Law
Annulment
Divorce
Domestic Relations
Domestic Violence
Marital Agreements
Marital Property Distribution
Marital Property Law
Marital Property Settlements
Name Changes
Palimony
Paternity
Post Divorce Modification
Postnuptial Agreements
Premarital Agreements
Qualified Domestic Relations Orders (QDROs)
Restraining Orders
Separation Agreements
Spousal Support
Uncontested Divorce
Fraud and Deceit
Fraud
Guardianship and Conservatorship
Elder Guardianship
Guardianship
Mental Disability Law
Hospital Negligence
Insurance
Accident Insurance
Automobile Insurance
Automobile Insurance Coverage
Automobile Liability
Casualty Insurance
Commercial Insurance
Commercial Property Insurance
Disability Insurance
Fire Insurance
Fire Loss
General Liability
Indemnity
Insurance Bad Faith
Insurance Contracts
Insurance Coverage
Insurance Fraud
Insurance Investigations
Insurance Litigation
Life and Health Insurance
Personal Liability
Property Damage
Property Insurance Coverage
Property Loss
Subrogation
Internet Law
Internet Crimes
Labor and Employment
Age Discrimination in Employment
Employee Rights
Employer Intentional Torts
Employer Liability
Employment Civil Rights
Employment Claims
Fair Employment Practices
Family and Medical Leave Act
Negligent Hiring
Noncompete Litigation
Wrongful Termination
Wrongful Termination Defense
Law Enforcement
Corrections Law
False Imprisonment
Police Liability
Police Misconduct
Leases and Leasing
Commercial Landlord and Tenant Law
Commercial Leasing
Evictions
Landlord and Tenant Law
Lease Terminations
Retail Leasing
Unlawful Detainer
Libel, Slander and Defamation
Defamation
Litigation
Civil Litigation
Complex Litigation
Defense Litigation
Federal Civil Litigation
Federal Litigation
Trial Practice
U.S. Supreme Court Litigation
Medical Malpractice
Chiropractors Malpractice
Dental Malpractice
Failure to Diagnose
Gynecology Malpractice
Medical Liability
Medical Negligence
Medication Errors
Nursing Malpractice
Obstetric Malpractice
Orthopedic Malpractice
Pediatric Malpractice
Pharmacists Liability
Physicians Professional Liability
Surgeons Liability
Medicare and Medicaid
Medicaid Planning
Medicare and Medicaid Reimbursement
Mergers, Acquisitions and Divestitures
Business Acquisitions
Personal Injury
Accidents
Animal Attacks
Aquatic Injuries
Automobile Accidents and Injuries
Automobile Negligence
Bicycle Accidents
Boating Accidents
Bodily Injury
Brain Injury
Carpal Tunnel Syndrome
Catastrophic Injury
Commercial Vehicle Liability
Cumulative Trauma
Dog Bites
Electrical Injury
Head Injury
Motor Vehicle Accidents and Injuries
Motorcycle Accidents
Neurolaw
Pedestrian Injuries
Personal Injury Appeals
Personal Injury Arbitration
Personal Injury Defense
Plaintiffs Personal Injury
Rental Vehicle Litigation
Repetitive Stress Injury
Severe Burns
Sexual Abuse
Slip and Fall
Spinal Injury
Third Party Wrongful Death
Whiplash
Wrongful Death
Premises Liability
Inadequate Security
Negligent Security
Premises Liability Defense
Premises Security
Private Security Liability
Privacy Law
Probate
Ancillary Probate
Probate Administration
Probate Litigation
Probate Taxation
Products Liability
Professional Liability
Property Law
Personal Property
Personal Property Leasing
Real Estate
Adverse Possession
Boundary Disputes
Common Interest Community Law
Conveyancing
Easements
Land Acquisitions
Land Sales
Land Trusts
Property Management
Quiet Title
Real Estate Contracts
Real Estate Exchanges
Real Estate Fraud
Real Estate Investment
Real Estate Leasing
Real Estate Litigation
Real Estate Sales
Real Property
Residential Real Estate Sales
Right of Way Easements
Religious Institutions
Securities
Social Security
Social Security Appeals
Social Security Disability
Social Security Disability Insurance
Supplemental Security Income
Torts
Civil Liability
International Torts
Mass Torts
Tort Defense
Tort Liability
Trusts and Estates
Contested Trusts and Estates
Decedents Estates
Estate Administration
Estate Bankruptcy
Estate Litigation
Estate Planning
Estate Planning for Parents of Handicapped Children
Estate Planning for the Disabled
Estate Planning for the Elderly
Estate Planning for Unmarried Couples
Estate Settlements
Family Trusts
Family Wealth Transfer
Fiduciary Law
Fiduciary Liability
Fiduciary Litigation
Financial Planning
Living Trusts
Personal Planning
Powers of Attorney
Retirement Planning
Special Needs Trusts
Trust Administration
Trust and Estate Collections
Trust Law
Trust Litigation
Trust Planning
Wealth Preservation
Utility Law
Electric Cooperatives Law
Electric Utilities
Gas Utilities
White Collar Crime
White Collar Criminal Defense
Wills
Contested Wills
Inheritance
Living Wills
Workers Compensation
Federal Workers Compensation
Industrial Insurance
Workers Compensation Appeals
Workers Compensation Defense
Workers Compensation Mediation
Workers Compensation Subrogation
Zoning, Planning and Land Use
Additional Info
Arkansas Automobile Accident Attorneys at Walters and Gaston have the experience you can trust and know-how you want in an AR injury law firm.

Diligent Arkansas Auto Accident Lawyers Here to Meet Your Needs
Also representing real estate, oil and gas, family law, personal injury and Social Security Disability clients
Established in Greenwood in 1971, Walters and Gaston is a general practice law firm with a focus on litigating cases for individuals and families. Our four award-winning attorneys have more than 65 years of combined experience trying lawsuits. We take great pride in providing high-quality representation throughout the entirety of any legal matter. Our firm employs state-of-the-art technology when investigating cases and working with clients, and we have an airplane and a helicopter we use for everything from photographing accident scenes to transporting expert witnesses to trials.
Attorneys with a passion for protecting clients' rights
Our main goal is to stand between those who abuse power and you - the regular person. We believe that everyone deserves to have an attorney who is passionate about obtaining justice in court or during negotiations. With that in mind, we diligently fight for what you rightfully deserve in disputes or transactions involving:
- Real estate and oil and gas
- Family law
- Social Security Disability
- Personal injury
We are well-known for preparing every claim as though it is going to trial, a technique that often produces successful results for our clients.
Our services
We recognize the difficult nature of dealing with a legal problem and strive to support you every step of the way. We are responsive to your questions and concerns, and we frequently receive referrals because of our ethical nature and dedication to upholding the law. We are also known for our dedicated support staff - each of our attorneys is supported by his own dedicated secretary, which ensures you can always talk to someone from our firm with specific knowledge of your case.
Our work as Arkansas auto accident lawyers
Being injured in a motor vehicle accident is a stressful, traumatizing experience. Our firm's attorneys understand that the impact of a car wreck can extend far beyond bodily injuries and damage to a car, and we are here to help you pursue the maximum compensation possible.
- Car accidents
- Motorcycle accidents
- Truck accidents
Lawyers