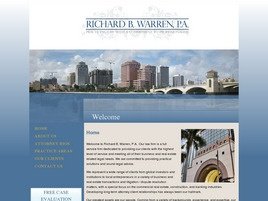 Wells Fargo Building, 4440 Pga Boulevard, Suite 200,

Palm Beach Gardens

,

FL

33410
Area Practice
Commercial Landlord
Tenant Litigationlitigation
Leasing Transactions
Commercial Loans
Commercial Real Estate Transactions
Sophisticated Commercial Litigation
Construction Litigation
Securities
Commodities
Arbitration
Banking Litigation
Land Use
Zoning Law
Admiralty Maritime Law
Landlord And Tenant Law
Leases And Leasing
Commercial Landlord And Tenant Law
Commercial Leasing
Evictions
Industrial Leasing
International Leasing
Lease Finance
Lease Terminations
Leasing
Leveraged Leasing
Office Leasing
Retail Leasing
Shopping Center Leasing
Real Estate
Community Association Law
Condominium Association Law
Condominium Development
Real Estate Acquisitions
Real Estate Arbitration
Real Estate Banking Law
Real Estate Bankruptcy
Real Estate Brokerage Law
Real Estate Brokers And Agents Liability
Real Estate Contracts
Real Estate Development
Real Estate Foreclosure
Real Estate Leasing
Real Estate Litigation
Real Estate Title
Real Estate Title Examination
Real Estate Title Insurance
Construction Law
Construction Claims
Construction Contracts
Construction Defects
Construction Finance
Construction Liens
Materialmens Liens
Mechanics Liens
Commercial Real Estate
Commercial Conveyancing
Commercial Real Estate Acquisitions
Commercial Real Estate Bankruptcy
Commercial Real Estate Contracts
Commercial Real Estate Development
Commercial Real Estate Finance
Commercial Real Estate Foreclosure
Commercial Real Estate Litigation
Commercial Real Estate Sales
Commercial Real Estate Syndication
Commercial Real Estate Workouts
Industrial Real Estate Law
Retail Development
Shopping Center Acquisitions
Shopping Center Development
Shopping Center Law
Additional Info
Providing legal represenation for commercial property owners, lenders, and developers throughout the State of Florida.

Our law firm is a full service firm dedicated to providing our clients with the highest level of service and meeting all of their business and real estate related legal needs. We are committed to providing practical solutions and sound legal advice.
We represent a wide range of clients from global investors and institutions to local entrepreneurs in a variety of business and real estate transactions and litigation / dispute resolution matters, with a special focus on the commercial real estate, construction, and banking industries. Developing long-term attorney client relationships has always been our hallmark.
Our greatest assets are our people. Coming from a variety of backgrounds, experience, and expertise, our clients can always count on our attorneys to relate to their position and to provide well-reasoned guidance. Give any one of the attorneys a call and you will instantly recognize their ability to grasp your situation, open communication skills, and capacity to provide wise legal advice.
We have designed this website to allow easy navigation through the information available. Many questions about our firm, attorneys, practice areas, representative clients, and contact information can all be found here. If you have any questions or would like to discuss your specific legal needs, please do not hesitate to call us, e-mail us, or set up an appointment to meet us person.
Lawyers