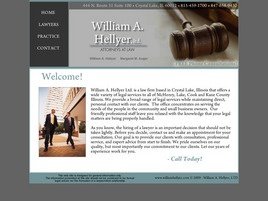 444 N. Route 31,

Bull Valley

,

IL

60012
Area Practice
Real Estate
Personal Injury
Small Business
Business Law
Wills and Trusts
Probate
Bankruptcy
Traffic Violations
Workers Compensation
Family Law
Divorce
DUI/DWI
Criminal Law
Automobile Accidents
Child Custody
Drug Crimes
Wrongful Death
Child Support
Estate Planning
Fathers Rights
Slip and Fall
Hit and Run
Dog Bites
Domestic Violence
Foreclosures
Discrimination
Zoning Law
Paternity
Additional Info
Experience matters because nothing is more important than your family & finances.

William A. Hellyer Ltd. is a law firm based in Crystal lake, Illinois that offers a wide variety of legal services to all of McHenry, Lake, Cook and Kane County Illinois. We provide a broad range of legal services while maintaining direct, personal contact with our clients. The office concentrates on serving the needs of the people in the community and small business owners. Our friendly professional staff leave you relaxed with the knowledgethat your legal matters are being properly handled.
As you know, the hiring of a lawyer is an important decision that should not be taken lightly. Before you decide, contact us and make an appointment for your consultation. Our goal is to provide our clients with consultation, professional service, and expert advice from start to finish. We pride ourselves on our quality, but most importantly our commitment to our clients. Let our years of experience work for you.
Lawyers