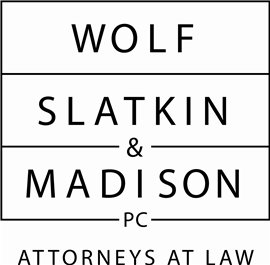 Wolf Slatkin & Madison P.c.
44 Cook St Ste 701

Denver

,

CO

80206
Area Practice
General Practice
Real Estate
Construction
Business
Corporate Law
Banking Law
Trials
Arbitration
Appellate Practice
Additional Info
The Wolf Slatkin & Madison P.C. law offices were founded in 1979 to serve clients in the Denver Metropolitan area and the Rocky Mountain region.
Wolf Slatkin & Madison attorneys provide legal services representation for a diverse clientele that includes:
-Major area contractors
-Architects and engineers
-Subcontractors
-Suppliers,
-Real estate developers and investors
-Real estate owners,
-Landlords and tenants
Our Guiding Principle: The practice of law is a profession, not a business. At Wolf Slatkin & Madison P.C., we measure our success by the number of our satisfied clients.
We are full-service, multi-disciplined lawyers who place special focus on practice areas such as:
-Construction
-Real estate
-Mediation, litigation, arbitration and appellate practice
-Corporate and business practice
-Estate administration
-Legal ethics
Lawyers