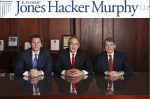 E. Stewart Jones Hacker Murphy, Llp
28 2nd St

Troy

,

NY

12180
Area Practice
Commercial Law
Corporate Law
Personal Injury
Insurance Litigation
ERISA
Disability Insurance
Property Tax
Condemnation
Eminent Domain Proceedings
Mediation
Arbitration
Civil Appeals
Business Arbitration
Business Litigation
Business Mediation
Business Fraud
Business Torts
Complex Business Litigation
Automobile Insurance Coverage
Automobile Liability
Fire Insurance Subrogation
Fire Loss
Insurance Arbitration
Insurance Bad Faith
Insurance Coverage
No Fault Automobile Insurance
Uninsured and Underinsured Motorists
Uninsured and Underinsured Motorists Arbitration
Debtor and Creditor Collections
Creditors Rights in Bankruptcy
Creditors Rights
Debtor and Creditor Rights
Debtor and Creditor Remedies
Negligence
Legal Negligence
Legal Professional Liability
Premises Liability
Automobile Accidents and Injuries
Accidents
Animal Attacks
Automobile Negligence
Boating Accidents
Bicycle Accidents
Bodily Injury
Brain Injury
Carpal Tunnel Syndrome
Bus Accidents
Aquatic Injuries
Catastrophic Injury
Commercial Vehicle Liability
Cumulative Trauma
Dog Bites
Electrical Injury
Head Injury
Motor Vehicle Accidents and Injuries
Motorcycle Accidents
Neurolaw
Pedestrian Injuries
Personal Injury Appeals
Personal Injury Arbitration
Personal Injury Defense
Personal Injury Mediation
Plaintiffs Personal Injury
Power Line Contact Injury
Psychological Injury
Rental Vehicle Litigation
School Bus Accidents
Severe Burns
Slip and Fall
Spinal Injury
Third Party Wrongful Death
TMJ Dysfunction
Tourist Injuries
Traumatic Brain Injury
Whiplash
Wrongful Death
Airbag Injury
E Coli Contamination
Debtor and Creditor
Debtor and Creditor Workouts
Debtors Rights
Unsecured Creditors Rights
Secured Creditors Rights
Breach of Contract
Administrative Law
Administrative Adjudications
Administrative Agency Practice
Administrative Hearings and Appeals
Administrative Litigation
Federal Administrative Law
Judicial Review
Professional Licensing
Professional Licensing Regulation
Public Law
Cruise Ship Injuries
Agricultural Litigation
Agricultural Tort Claims
Alcoholic Beverage Control
Dram Shop Liability
Liquor Liability
Appellate Practice
Aviation Accidents
Aviation Liability
Bank Collections
Bank Foreclosures
Bank Fraud
Interest and Usury
Lender Liability
Commercial Foreclosure
Commercial Recovery
Commercial Workouts
Foreclosures
Fraudulent Conveyance
Business Law
Business Associations Law
Business Cooperatives
Business Crimes
Business Development
Business Dissolutions
Business Enterprises
Business Estate Planning
Business Formation
Business Organization
Business Planning
Business Regulation
Business Reorganization
Business Start-Ups
Business Succession Planning
Business Successions
Business Syndication
Business Taxation
Business Transactions
Business Transfers
Business Trusts
Business Valuation
Buy-Sell Agreements
Buying and Selling of Businesses
Closely Held Business Estate Planning
Closely Held Business Law
Closely Held Business Taxation
Cooperative Taxation
Emerging Business Law
Emerging Growth Companies
Entrepreneurial Business Law
Family Business Mediation
Family Business Law
Family Business Successions
International Business Law
International Joint Ventures
Joint Ventures
Limited Liability Company Law
Minority Business Law
Pass-Through Entities
Private Business Law
Privatization
Professional Practices
Small Business Law
Sole Proprietorships
Strategic Alliances
Trade Association Law
Trade and Professional Associations
Chancery and Equity
Chancery Practice
Civil Practice
Federal Civil Practice
Civil Rights
Civil Liberties
Civil Rights Defense
Civil Rights Section 1983
Disability Discrimination
Disabled Rights
Disabled Access
Discrimination
Human Rights
Race Discrimination
Sex Discrimination
Womens Rights
Collections
Commercial Collections
Garnishments
International Collections
Post Judgment Collections
Professional Collections
Retail Collections
Secured Collections
Unsecured Collections
Commercial Bad Faith
Commercial Arbitration
Commercial Constitutional Law
Commercial Crimes
Commercial Fraud
Commercial Liability
Commercial Litigation
Commercial Mediation
Commercial Torts
Commercial Transactions
Commercial Transfers
Commercial Trusts
Complex Commercial Litigation
International Commercial Arbitration
International Commercial Law
International Sale of Goods
Negotiable Instruments
Sale of Goods
Retail Liability
Secured Transactions
Uniform Commercial Code
Warehousing
Commercial Real Estate
Commercial Conveyancing
Commercial Real Estate Acquisitions
Commercial Real Estate Contracts
Commercial Real Estate Development
Commercial Real Estate Finance
Commercial Real Estate Foreclosure
Commercial Real Estate Litigation
Commercial Real Estate Sales
Commercial Real Estate Workouts
Industrial Real Estate Law
Shopping Center Acquisitions
Shopping Center Development
Shopping Center Law
Fifth Amendment Law
First Amendment Law
Fourth Amendment Law
Construction Law
Architectural Law
Construction Accidents
Construction Arbitration
Construction Claims
Construction Contracts
Construction Defects
Construction Equipment Liability
Construction Finance
Construction Insurance
Construction Insurance Defense
Construction Labor Law
Construction Liability
Construction Liens
Construction Litigation
Construction Mediation
Construction Products Liability
Construction Safety
Construction Workouts
Construction and Design Law
Construction and Surety Law
Contractor Performance Bonds
Contractors Liability
Environmental Construction Law
International Construction Contracts
International Construction Law
Materialmens Liens
Mechanics Liens
Public Construction Law
Public Works
Roof Industry Liability
Scaffolding Liability
Structural Work Act
Stucco Litigation
Consumer Class Actions
Commercial Contracts
Contract Fraud
Contract Litigation
Closely Held Corporations
Corporate Commercial Law
Corporate Contracts
Corporate Criminal Law
Corporate Dissolutions
Corporate Ethics
Corporate Fiduciary Law
Corporate Formation
Corporate Insurance
Corporate Investigations
Corporate Litigation
Corporate Organization
Corporate Partnerships
Corporate Planning
Corporate Real Estate
Family Corporations
Incorporation
Nonprofit Corporations
Professional Corporations
S Corporations
Small Business Corporations
Criminal Law
Assault and Battery
Bribery
Burglary
Capital Offenses
Civil Forfeiture
Crime Victims Compensation
Criminal Antitrust
Criminal Appeals
Criminal Conspiracy
Criminal Defense
Criminal Forfeiture
Criminal Fraud
Criminal Investigation
Criminal Prosecution
Death Penalty
DUI/DWI
Drivers License Suspension
Driving While Intoxicated
Electronic Surveillance
Expungements
Extortion
Extradition
Federal Criminal Law
Felonies
Forensic Accounting
Forensic DNA
Forensic Medicine
Forensic Science
Forgery
Grand Jury Practice
Habeas Corpus
Hit and Run
Homicide
International Criminal Law
International Extradition
Juvenile Criminal Law
Juvenile Delinquency
Mail Fraud
Malicious Prosecution
Manslaughter
Misdemeanors
Money Laundering
Murder
Parole and Probation
Post-Conviction Remedies
Search and Seizure
Sex Crimes
Sexual Assault
Shoplifting
Stalking
Theft
Traffic Violations
Vehicular Homicide
Victims Rights
Weapons Charges
Wire Fraud
Wiretapping
Debtor and Creditor Reorganization
Fair Debt Collection Practices Act
International Creditors Rights
Drugs and Narcotics
Civil Drug Forfeiture
Controlled Substances Law
Drug Crimes
Drug Forfeiture
Drug Trafficking
Additional Info
Top-Rated Albany, NY law firm established in 1898, focusing on litigation claims in upstate New York. We offer initial consultations at no charge.

The E. Stewart Jones Hacker Murphy Law Firm, with offices in Albany, Latham, Troy and Saratoga Springs, NY has earned national recognition for distinction and success. The firm's talented attorneys boldly take on difficult and/or high-profile cases that other firms may shy away from. Our trial lawyers have won record-breaking personal injury settlements and verdicts for wrongful death and injury in car accident, construction accident, negligence and medical malpractice cases.
Known statewide for business and commercial litigation, our experienced trial attorneys handle a diverse range of litigated matters in state and federal courts, from contract disputes to internal conflicts among partners and shareholders. The firm is a recognized leader in real estate property valuation, tax assessment litigation and eminent domain or condemnation. We help businesses reduce real estate taxes and counsel / defend municipalities in valuations and assessments. Our attorneys are knowledgeable in real estate property tax claims, namely challenging tax assessments on commercial properties and is experienced with Boards of Assessment, NYS Real Property Tax Services and all courts.
Our Criminal Defense practice serves people from every walk of life with the same level of professionalism and desire to win. From DWI and DUI, assault, petit larceny, grand larceny and domestic violence to white collar crime, and Federal crimes of wire fraud, identity theft, or drug charges, you can expect to be treated with compassion and respect.
Lawyers