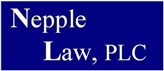 Hershey Professional Center, 615 Cedar Street, Suite 101,

Muscatine

,

IA

52761
Area Practice
Taxation
Estate Planning
Trust Law
Estate Administration
Wills
Probate Administration
Nonprofit And Charitable Organizations
Businesses
Corporate Law
Pension And Profit Sharing Plans
Real Estate
Farms
Additional Info
Licensed to Practice in Iowa and Illinois.

Nepple Law, PLC is a regional law firm providing high-quality professional services for over 30 years in the business, estate and tax planning areas for individuals, professionals and small-to-medium-sized businesses. We do this competently, timely, ethically and in a manner that provides reasonably-priced services to our clients, and challenging work which yields a fair return to our members.

Core Values Core Values are statements which reflect important philosophies of our firm and are used, in concert with our Mission Statement, to guide us in decision making. The Core Values of our firm are:

-Clients. We hold our clients paramount. We serve them with high professional, technical and ethical standards to help them succeed. We strive to maintain good client relationships.

-Members. The capability, initiative, integrity, creativity and commitment of our members are our most important assets. We seek to involve and empower them and to maintain fairness and integrity in all relationships. We strive to provide our members creative and satisfying opportunities, a role in shaping our mutual future, and fair compensation. We support the growing diversity of the workforce. We give high priority to training and development and career path opportunities to strengthen competence and keep abreast of changing areas of law and technology.

-Profession. We take seriously our responsibilities to the professions we practice, to the communities where we live and work, and to our members.

-Fiscal Management. We believe in conservative fiscal practices and a strong balance sheet that provides stability in bad times as well as good.