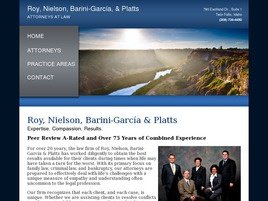 Roy, Nielson, Barini-García & Platts
780 Eastland Dr Ste 1

Twin Falls

,

ID

83301
Area Practice
Divorce
Bankruptcy Chapter 7
Criminal Defense
Adoption Law
Child Custody
Child Support
Grandparents Custody
Grandparents Visitation Rights
Termination Of Parental Rights
Alimony
Community Property Law
Paternity
Post Divorce Modification
Postnuptial Agreements
Premarital Agreements
Qualified Domestic Relations Orders (QDROs)
Restraining Orders
Spousal Support
Uncontested Divorce
Immigration And Naturalization
Personal Injury
Probate
Wills
Collections
Office Practice
Guardianship and Conservatorship
Adult Guardianship
Conservatorship
Guardian Ad Litem
Guardianship
Additional Info
AV Rated by Martindale-Hubbell Serving Twin Falls, Boise and Surrounding Idaho Cities

For over 25 years, the law firm of Roy, Nielson, Barini-García & Platts has worked diligently to obtain the best results available for clients during times when life may have taken a turn for the worst. With its primary focus on family law, criminal law, and bankruptcy, our attorneys are prepared to effectively deal with life's challenges with a unique measure of sympathy and understanding often uncommon to the legal profession.
Our firm recognizes that each client, and each case, is unique. Whether we are assisting clients to resolve conflicts in reference to children, to preserve their civil rights in reference to a criminal matter, or to escape from the burden financial distress in the midst of bankruptcy, our attorneys have a solid reputation for hard work, understanding, and excellence in results. You can rest assured that the burden inevitably felt in these difficult circumstances will be alleviated with our attorneys thoughtfully guiding you through the process and successfully advocating for your rights.
Lawyers